We are committed to offering the best products at great prices, backed excellent service
Returns policy
Email your query
Testimonials
Payment methods
Trade credit accounts
About us
Arrange a time to visit us for advice
Picture Gallery
News and advice on products
1986 - 2014 EM Hardware Supplies Ltd visit our warehouse store open daily
www.handlesupplies.com is our online showroom and store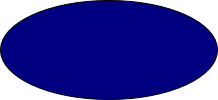 Handle Supplies is a
registered trading name
of EM Hardware Supplies Ltd established and trading in Ireland for 28 years
The best range at the best prices for all our customers.
Road directions to our store
handlesupplies@gmail.com
Call us now 021 4883131

Open Mon -Fri 9 am to 6.pm and Sat10 am to 2 pm email : handlesupplies@gmail.com for the world of door handles, knobs, locks, doors and more..
Black handles

Window parts
Front door locks
Multipoint locks
Sliding door locks
Sliding door handles
Sliding door rollers
Sliding door black levers
Cylinder locks
Cylinder thumb-turns
Euro profile cylinders
Anti snap cylinders
Rim cylinder locks
Night latch locks
Five lever deadlocks
PVC window hinges
PVC window locks
PVC window handles
PVC window wedges
Pull handles
Grab rail handles
Child finger protectors
Door bell pushes
Finger plates
Push plates
Safes
Emergency exit locks
Master keyed locks
Digital locks - mechanical
Digital locks - electronic
Ball bearing hinges
Parliament hinges
Post box locks
Cam locks
Door closers - overhead
Chain door closers
Door spy-hole camera
Child fun cartoon knobs
Porcelain kitchen knobs
Door knockers
Doctors knockers
Keyhole cover escutcheons
Lever on rose handles
Lever on plate handles
Porcelain door knobs
Black old-world handles
Latches (non locking)
Rim locks - old fashion
PVC door letter plates
PVC door handles
Door knocker & spy-hole
Door chain
Hinge fronts - black
Locking knob sets
Kitchen knobs
Kitchen door hinges
Blum hinges
Door bolts
Flush bolts
Mortise locks
Dead locks
Lock cases
Strike plates
Aluminium door handles
Tear drop keyhole covers
Bathroom locks
Bathroom thumb-turns
Bathroom indicator bolts
Door lock sets
Horizontal locks
Centre door knobs
Post boxes
Door bolts
Pad bolts
Pad locks
Kick plates
Door magnets
Keypad entry units
Door stops
Casement stays
Cockspur handles
Restricted key copy locks
Master key lock systems
Window safety restrictor
Coupling screws
Flat latches
Draft strip
Weather bar
House numbers
Door signs
WC signs
Hat and coat hooks
Cupboard gripper catches
Cupboard ball catches
Heavy duty spring catches
Keyed alike locks
Rim cylinder pulls
Budget locks
Key tags
Floor springs
Rebate sets
Rebate locks
Flush door handles
Hand rail brackets
Key rings
Safety lever handles
PVC door hinges
Lock spindles
Multipoint lock gearboxes
Multipoint lock strikes
Cabin hooks
Door wedges
Hasp and staples
Emergency exit hw
Patio door parts

Porcelain knobs





High security locks
Scroll to the bottom to read message regarding Covid19 arrangements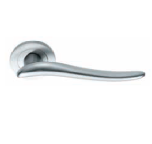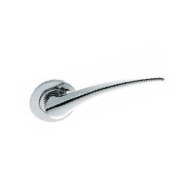 While stocks last
30 % off any selected brass hinge
When you choose and buy your handles and locks from our huge range
Standard brass double steel washer 4.50 less 30%
Brass ball bearing hinges 8.52 euro less 30%
Price per pair , many more hinges to choose from.
30 % discount on satin stainless steel ball bearing
hinges were 7.50 euro per pair
Now only 5.25 euro per pair when you also purchase your handles or locks from us at the same time
please bring in a print off of this page or email us first in order
To take up any of these special orders
20 % off all cylinders, when you email us your order we will email you back to confirm your price and availability before calling by our warehouse store to pay for and collect your cylinders, extra keys can be cut and ready for you at a special reduced price per extra key of 2.50 euro each.
Call us on 021 488 3131 for advice and assistance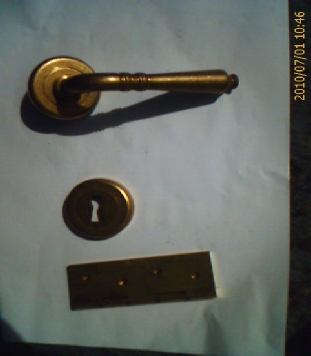 Special package offer 1 !
Premium Italian Antique Brass Handles-pair
Keyhole cover Escutcheons - pair
Brass double steel washer hinges
Brass internal door lock
Normal price for this package 54.75 euro
Once off offer 48.50 euro !!!
normal price for this package 58.40 euro a set
WC Thumbturn and WC lock 7 euro extra
The Italian handles in offer offer 1 and 2 below are exclusive in Ireland to our store
They are two from the premium range of Italian door handles that we offer our customers
This range is sold only by speciality door handle suppliers through-out the world, the quality is second to non
We have supplied them to many happy customers.
Contact us, you will not be disappointed.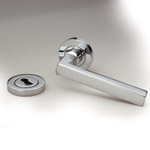 Special package offer 2 !
Premium Italian Designer Handles Satin Chrome square profile-pair
Keyhole cover Escutcheons - pair
Satin Chrome Ball Bearing hinges 3
Matching internal door lock
WC Thumbturn and WC lock 11 euro extra
Normal price for this package 94.55 euro
Once off offer not be 74.50 euro for each of 20 sets only 6 sets left at this price
Available for one house only
Exclusive in Ireland to us at Handle Supplies
Let us take out the risk for you in buying handles abroad online, you can view touch and feel the best door handles available right here in our store at Carrigtwohill behind Lakewood Furniture. We are selling the best handles available for the last 25 years, we make sure you get the best.
You will have the piece of mind of our full back up service.
Expert advice on what you need for your complete project
We buy all over the world, so let our experience work for you.
From budget priced door handles that look great to the best quality and design , we offer an ideal solution for every house .
Special end of year package offer 3
Designer
Satin nickel handles -pair
+
Matching
Keyhole escutcheons -pair
+
And mortise lock
Normal price 29.30 euro
Until end of March 2014 only 28.00 euro
WC lock and thumb-turn option available
only 7.50 euro extra per door.
Choose a special offer below and call us today on 021 488 3131
Delivery service anywhere in Ireland for 12 euro extra. Email sales@emhardware.ie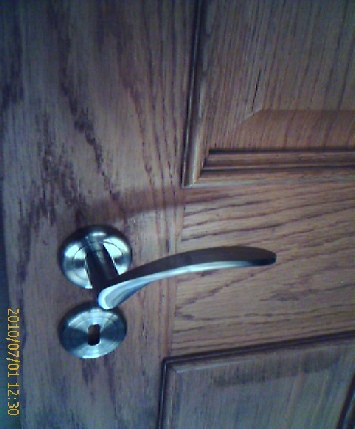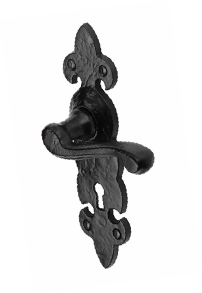 6 pairs of black antique handles as shown
6 pairs heavy duty black hinges with screws
6 black locks including 2 keys per lock
First package will be sold 66 euro for the lot !
Each subsequent lot of 6 sets selling now 100 euro while stocks last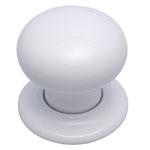 Porcelain door knob special offer 1
6 pairs of white porcelain door knobs as shown and 6 pairs of white tear -drop key hole cover - escutcheons
First package sold only 126 euro
Each subsequent lot of 6 sets of knobs and escutcheons 156 euro
Porcelain door knobs special offer 2
6 pairs of white porcelain door knobs and 6 pairs of white tear -drop escutcheons and 6 pairs of porcelain finger plates
First package will be sold for only 195 euro
Each subsequent lot of 6 sets of knobs and escutcheons and finger plates 225 euro